Our clients approached us to build their dream home on the foothills of beautiful Mt Cootha, Brisbane. Such a beautiful site did however, come with some design challenges, and we were pleased to work with David & Angela towards a stunning solution which addresses the slope steepness, bush-fire management requirements and BCC town planning regulations.
After close collaboration with our specialist consultant team, the final 3 storey house design features an impressive mix of concrete, steel, timber, zinc and stone. The exterior finishes are a well-considered contrast of natural Helidon sandstone and 3 shades of natural and pigmented zinc, providing the home with a low maintenance, sustainable and bush-fire resilient skin.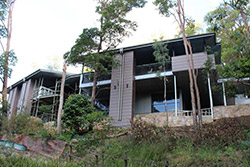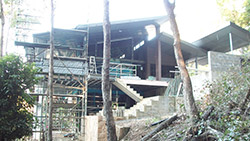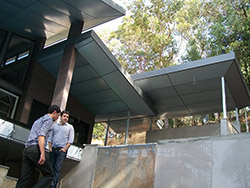 Our clients are delighted with how the outstretched wings of the home capture the breathtaking distant views, while the dramatic projections and interior voids articulate the house's form allowing daylight to penetrate the interior. The upper level south lights draw cool air from the concrete base structure, and the upper level living spaces open onto expansive verandahs.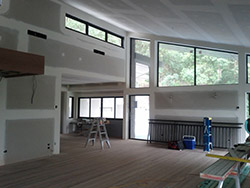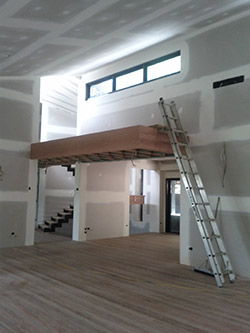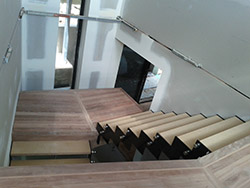 We worked attentively to ensure the natural energy efficient ventilation and ideal orientation were augmented with state-of-the-art technology. This includes smart home automation, ducted air-conditioning, a generous wine cellar, 3 level lift, roof sprinkler system, and a diesel generator for when Mother Nature isn't so kind. We are very much looking forward to providing more up-dates on this striking home.